Rainy Day Attractions, Lake District
Liquid sunshine in the Lake District? Here's some top rainy day attractions.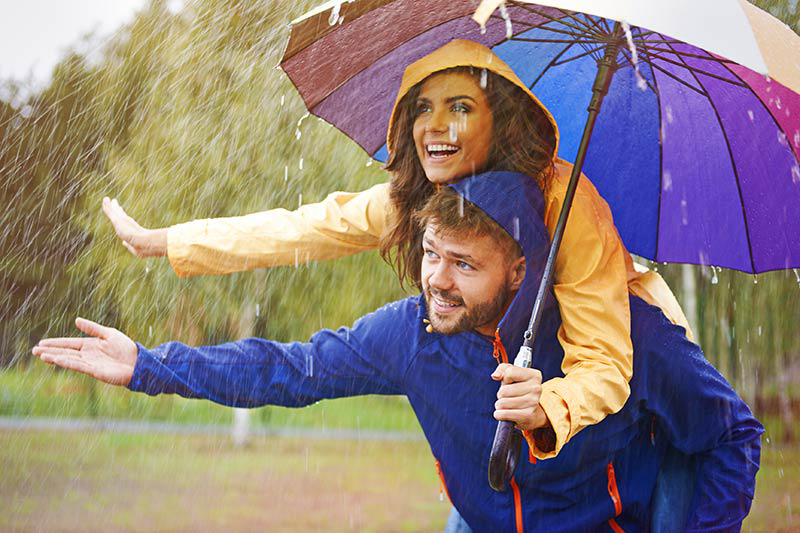 There is always the most stunning scenery in the Lake District whatever the weather, but some days you will be happy to give it a miss. Oh yes…. keep dry and warm and watch the low cloud dress the most dramatic of landscapes, maybe just finish that great book while you're at it. But a little rain and perhaps a good dusting of snow doesn't keep us Brits at bay; so go immerse yourself in a fantastic adventure directly from one of our cosy Cumbrian Cottages . It really will remain imprinted in your memory! Add to this: a fantastic choice of less soak-worthy pursuits and inspiring indoor attractions- we think you will be off out exploring Cumbria whenever it takes your fancy. So if the "rain, rain" won't go away (believe us it will) here: listed in order of distance from our holiday cottages (starting with the nearest), are some of our best loved rainy day attractions-
Wordsworth House, Main Street, Cockermouth, Cumbria, CA13 9RX.
Take a step back in time……all the way to the 1770's in fact! Here is a lovely Georgian house with many period features, including staff dressed in the costume of the day about the house and gardens. Phone 01900 820884
Jennings Brewery Tour,

Castle Brewery, Cockermouth CA13 9NE
Brewing since 1828 from nearby village of Lorton. The present brewery was established in 1878 and continues to use pure Lakeland water. A very interesting visit with some thirst quenching samples to be tried at the end. Phone 01900 820362
The Lake District Coast Aquarium, 

South Quay, Maryport CA15 8AB
Lots of fish and crustaceans to see here, including an impressive Shark and Ray pool and a "Heads Up" tank (great for photos). There is also crazy golf, radio controlled boats and a top notch cafe. Very good value as rainy day attractions go. Phone 01900 817760
Fleming Square & Senhouse Roman Museum, Maryport.  CA15 6ET
A charming Georgian square in Maryport (for many years known as Ellenfoot, after the river that flows into the sea), that provided housing for the  navy merchants that operated from the town. The museum is situated on the cliff overlooking the Solway Firth, not far from the square. It's name and collection owned by the Senhouse family that originally developed the town as a port. Follow the signs with the Roman helmet to get you there, you will find ample parking.
Museum 01900 816168
West Coast Indoor Karting,

Solway Trading Estate, Maryport CA15 8NF
Practice sessions for individual drivers can be booked on 2 different tracks with 160cc engines. Phone 01900 816472
Lakes Distillery, Bassenthwaite Lake Cumbria, CA13 9SJ
English barley, Yorkshire malt and the purest water from the Lakes (originating at Sprinkling Tarn to be exact). A visit here is very rewarding and delicious too! Why not book a romantic meal at the Bistro- bookings – 01768 788852. Tours and shop are available also- 01768 788857
Whinlatter Forest,

Keswick CA12 5TW
Sure, there is more to do outside here than in! For all weather thrills: including mountain biking and Go Ape (now offering Segway hire) see the website link below. But the cafe, shop and visitor centre here are great too, plus you can watch the Bassenthwaite Ospreys  on their live nest camera. Of course, the forest does afford some protection from the elements; so you may be tempted to walk one of the many trails that meander among the huge trees.
Mirehouse and Gardens, Bassenthwaite CA12 4QE
Open April to October. An historic house with many literary connections including Wordsworth and Tennyson. A beautiful spot, with rhododendron tunnel, heather maze and cafe dishing out very tasty Cumbrian food. Phone 017687 72287
Keswick Climbing Wall, Goosewell Farm, Keswick CA12 4RN
Rainy day attractions don't have to be without the exercise and adrenaline! This is a great indoor pursuit and yet still affords great views of the fells from the climbing walls, if your missing them. Lessons are provided too, so after an hour you could be scaling these different rope climbs (40 in all!) by yourselves. You can also organise:  ghyll scrambling, kayaking/canoeing and orienteering with them. Phone 017687 72000
Keswick Museum and Art Gallery, Fitz Park, Station Road, Keswick, Cumbria, CA12 4NF
Founded in 1873, this large Victorian style building and attraction was enhanced and reopened in 2014. Open all year round, the museum is a testament to local life from Roman times. Some odd exhibits that are memorable such as: a 666 year old mummified cat, Victorian roller-blades and the "Musical Stones Of Skiddaw"- a kind of very large xylophone with bells on. The inventor of this, a Mr Peter Crosthwaite (b. 1735) also tried his arm at a portable bathing machine; how Dragons Den could do with more characters like this!  The fine art collection is notable for works by Nash and Westall. Phone 017687 73263
Honister Slate Mine, Honister Pass, CA12 5XN

Of course, it's not always easy to tell what the weather is going to do. Many Lakeland lovers know just how quickly it can change, especially on the fell. So a drive through the beautiful Borrowdale or Buttermere up to the Honister Pass might just suit all needs. Here you can be on the mountain, taking the "Via Ferrata" or even in it via the fascinating mine tours offered. There is a shop and cafe too, but take warm clothing/waterproofs: the pass is high, the Via Ferrata even higher and the interior of Fleetwith Pike is without central heating. One of the regions best rainy day attractions! Phone 017687 77230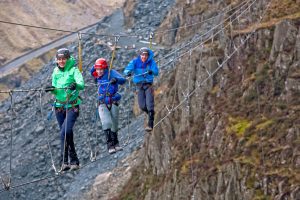 Many couples staying at our cottages have enjoyed the thrilling "Sky-walk" on the Via Ferrata. We recommend seeing their website here- Honister Slate Mine
Rum Story, Lowther Street, Whitehaven, CA28 7DN
A "Visit England Hidden Gem 2014" attraction, designed to captivate the attention of all ages. The Rum Story- "The Dark Spirit of Whitehaven" is just part of the history to this famous Georgian port. With connections to Sir Christopher Wren, George Washington and the American War of independence, there is much to find that will interest and surprise you here.
Phone 01946 592933
Ullswater Steamers,

The Pier House, Glenridding CA11 0US