Dog Friendly Lake District Cottages
Self-Catering accommodation to get their tail wagging. Relaxing Dog Friendly Lake District Cottages.
We'd like to set the record straight. While we're called 'Cottages Made for Two', it's a bit of misnomer. Truth be told, we are also home to six cottages that are the stuff of doggy day dreams. So for this page at least, let's be known as 'Cottages for couples, plus their trusty canine' and in some cottages 2 furry friends can holiday too.
Our self-catering accommodation welcomes man's best friend – at exceptionally good value.
Roaring log burner? Lay down, pal. Ample kitchen space for a thirsty slurp? You got it. Seriously, if our accommodation got any more dog friendly it would come with free bones and a back scratch. Which could explain why we are nominated for the Kennel's Club Dog Friendly Hotel Award in 2023.
All of our curl-up cosy cottages are dog-friendly. We'll roll out the welcome mat for 1 well-behaved dog at just £5 per day. And if you have more than one dog (like us), check out the following dog-friendly Lake district cottages:
Super Dog Friendly-  HAYLOFT COTTAGE
SALKELD Dog Friendly Lake District Cottage or DYKES Dog Friendly Lake District Cottage or PARLOUR Dog Friendly Lake District Cottage
Our dog friendly Lake District cottages are cleaned to the very highest standards; we use the latest cleaning technology to ensure that everything is just so. All we ask is that you don't allow your dogs on the beds or furniture, and that they're not left unattended in the cottages or grounds.
How to Book Our Dog-Friendly Lake District Cottages
Booking your next dog-friendly holiday is but a few clicks away. Check our available dates and rates, and book right here.
Questions or queries? You're very welcome to call. Let's talk – 01697 321439
Welcome to the Lake District, Fido – You're going to like it here
The Kennel Club's 'Be Dog Friendly' campaign has honoured the Lake District as the 'Best Great Outdoors Destination' for dogs, while Keswick (the 'capital' of the North Lakes) was hailed as the most 'dog friendly town in Britain'. Safe to say that those paws are going to be busy.
Meet Dasher – our resident pet dog.
We are true fans of all furry friends. We have had many dogs ourselves. Meet Dasher the Labradinger. This four-legged Fell lover accompanies us on our own self-catering adventures, so we know exactly what it takes for a cottage to impress both dog and master alike.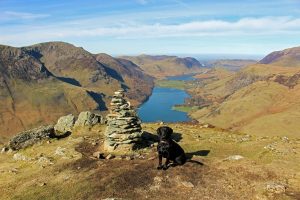 Walks right from the cottage doorstep
From the moment their paws step out of our accommodation doors, your dog will be treated to a wealth of walks, locally and in Cumbria. Take a ramble to Ellen Vale – on your way (if it's a clear day) take a moment to drink in the sights of the Scottish hills on the opposite side of the Solway Firth.
If you and your tail wagging friend are up for a more energised day out, take a walk up Tallentire Hill, where you'll be able to see the North Western Cumbrian mountains.
Or if you fancy a more leisurely ramble, leash him up and wander freely through beautiful woods, passing over a bubbling beck and stopping off for a well-earned pint and a bowl of water at either of our two local pubs. Speaking of which…
Muddy Milo?
Be sure to take a pit stop in the stream that runs through the cottage grounds – one dog wash and welcome drink coming right up!
Pups and pubs – Local-to-us dog-friendly pubs
Gilcrux has a delightful rustic pub which is dog-friendly. The Mason Arms welcomes dogs whatever the time of day or night.
Dog-friendly pubs in the wider Lake District
Beyond Keswick and our local area there are hundreds of dog-friendly Lake District pubs to be sniffed out. Our Dasher and Binsey's top three favourites are…
The Wateredge Inn, Ambleside
Located just a few dog strides away from Lake Windermere, this place sure makes a dog feel welcome, as they have dog bowls both inside and outside. As for you, master, expect some of the most stunning views the Lake District has to offer!
The Bridge Inn, Buttermere
Good ol' traditional bar meals? Check. Veggies catered for? Absolutely. Four Cumbrian cask beers? Bottom's up! The Bridge Inn has it all and allows dogs on the patio as well as in the Walkers' Bar.
The Horse and Farrier, Threlkeld
This is an inn with history. Dating all the way back to 1688, the Horse and Farrier serves up delicious food, with leashed dogs welcomed in the bar.
Top doggy day trips
For walks, there's no place in the world quite like the Lake District. Here's our first-hand guide from two dog owners who've walked every last mile of the Lake District with two dogs in tow…
Insatiable husky? We'd recommended the 9 mile walk around Derwentwater lake (and for his masters who are firm Star Wars fans, pay attention, as this scenery has served as the backdrop to the smash-hit film Star Wars – The Force Awakens).
Looking for sea views or a walk suited to an elderly dog? The Solway Coast provides for great sea faring landscapes with a diverse terrain for dogs of all ages and abilities. Just ten-minutes away from our dog-friendly Lake District Cottages, the Solway Coast has a huge beach, fantastic views across the water to Dumfries and Galloway, and stunning seaward sunsets. It is also dog friendly all year round.
Rydal Water is another suggestion for dogs not steady on their feet, as it runs for just one mile.
Finally, if you're pining for a walk that'll last the morning, consider Loweswater. Loweswater offers an easy, but relatively long walk (totalling to around 4 miles). Start at the car park at the east of the lake, then make your way into Holme Wood.
Searching for treats?
The Lake District is a year-round favourite with dog lovers, so you'll not be surprised to find that pet shops are ten a penny round these ways. However Dasher the Labradinger and Binsey the Boxer can personally recommend "Podgy Paws" in Keswick for all your treat and dog information needs.
Keswick, along with Cockermouth, are also home to many dog-friendly cafes and pubs, as well as having many shops and visitor attractions to explore.
Need more ideas or information? We'll fetch them for you.
If you'd like some more ideas for walkies – long or short (or rainy-day alternatives), just ask us during your stay (we'll be happy to advise).
We hope to hear the pitter patter of tiny paws sometime soon!