Explore in Cumbria
 See Some of Our Favourite Places to Explore in Cumbria
Cumbria is blessed with a wealth of historic market towns, misty landscapes, sweeping fells and rugged coastline. We are fortunate enough to have not only stunningly situated Cumbrian cottages, but also great traditional pubs serving real ales and delicious dishes prepared with locally sourced ingredients.
There really is so much to get to know in this very special part of the country – so here are some of our favourite places to explore in Cumbria, to get you going.
Derwentwater
For many, Derwentwater is the most beautiful lake in the whole Lake District. The surrounding fells make for some quite stunning photography and the view from Catbells, in particular, is breathtaking. For a "Surpise View" that really does live up to it's name, head to Watendlath and over the beautifully quaint Ashness Bridge; the vista really is something to behold. There are plenty of footpaths, so exploring the lake and its surrounds on foot is no struggle. From our cottages in Ellen Hall, you can reach the lake via a short but very attractive drive that takes in Bassenthwaite Lake and Skiddaw.
Here's a great walk taking in Friars Crag and Castlehead (from Keswick) – Friars Crag/Castlehead
Buttermere & Borrowdale
A round tour of these valleys and lakes is perfect for a rainy day's drive. You can take in some of the most stunning scenery in the Western Lake District, including 3 lakes, attractions like Honister Slate mine (with shop, tours and café) and then end with some shopping in either Keswick or Cockermouth. If you suddenly feel the urge to stretch those legs, then a walk around (or even up) Castle Crag is very rewarding- Castle Crag tips.
Aira Force Waterfall
There are plenty of waterfalls to explore in Cumbria, but Aira Force in our view is probably the most magnificent. Reach the arched stone footbridge that crosses over the very top of Cumbria's favourite waterfall via the Gowbarrow trail, along which you can find the Gowbarrow wish tree – just be sure to be armed with some coinage before you set out (preferably copper!), which you'll need if you are to have a good chance of those wishes coming true. There are tea rooms at the bottom car park, or if you think you should get some calories burnt first (although it is a relatively easy walk for all) then you also have the option of parking in the High Cascades spaces.
💡 In 2015- Ullswater Steamers opened a jetty near the falls, so you can now enjoy a lake cruise with this stunning natural feature.
*Check timetable for winter sailings (mostly weekends only) here- Ullswater Steamers
The Solway Coast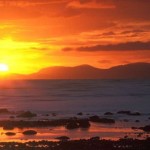 Now the Solway Coast (just a few minutes in the car from Ellen Hall) is a long and magnificent stretch of coastline, so there is plenty to visit and explore here – among the highlights are sand dunes, marshes, grey seals, sunsets, Roman remains and the Solway Coast Discovery Centre, which offers a fascinating exhibition on the transition of the Solway Coast from the last ice age to the present day.
And your canine friends love it here too, with acres upon acres of open space, dog friendly all year round.
Feel free to contact us with any questions about your break in Cumbria, and we'll very much look forward to hearing from you.
💡  Tell us what you love about the Lakes and if your comment appears here, we'll give you 10% off your next stay with us.